Material:
DIN608 Stainless Steel A2-70 SS316 Flat Countersunk Square Neck Bolts With Short Square

A bolt is a form of threaded fastener with an external male thread. Bolts are thus closely related to, and often confused with, screws. A hex cap screw is a cap screw with a hexagonal head, designed to be drivenby a wrench (spanner). An ASME B18.2.1 compliant cap screw has somewhat tighter tolerances than a hex bolt for the head height and the shank length. The nature of the tolerance difference allows an ASMEB18.2.1 hex cap screw to always fit where a hex bolt is installed but a hex bolt could be slightly too large to be used where a hex cap screw is designed in.Standard:DIN,ASTM/ANSI JIS EN ISO,AS,GBMaterialStainless Steel: SS201, SS303, SS304, SS316,SS316L,SS904L,F593Steel Grade: DIN: Gr.4.6,4.8,5.6,5.8,8.8,10.9,12.9; SAE: Gr.2,5,8; ASTM: 307A,307B,A325,A394,A490,A449,FinishingZinc(Yellow,White,Blue,Black),Hop Dip Galvanized(HDG),Black Oxide,Geomet,Dacroment,anodization,Nickel plated,Zinc-Nickel platedProduction ProcessM2-M24:Cold Froging,M24-M100 Hot Forging,Machining and CNC for Customized fastenerCustomized ProductsLead timeBusy season:15-30days,Slack seaon:10-15daysStock ProductsSteel:4.8Grade DIN6923,8.8Grade 10.9Grade of GB5783 and GB5782Stainless steel: All DIN Standard stainless steel BoltFree Samples for standard fastenerFor more information visit:www.hainafastener.com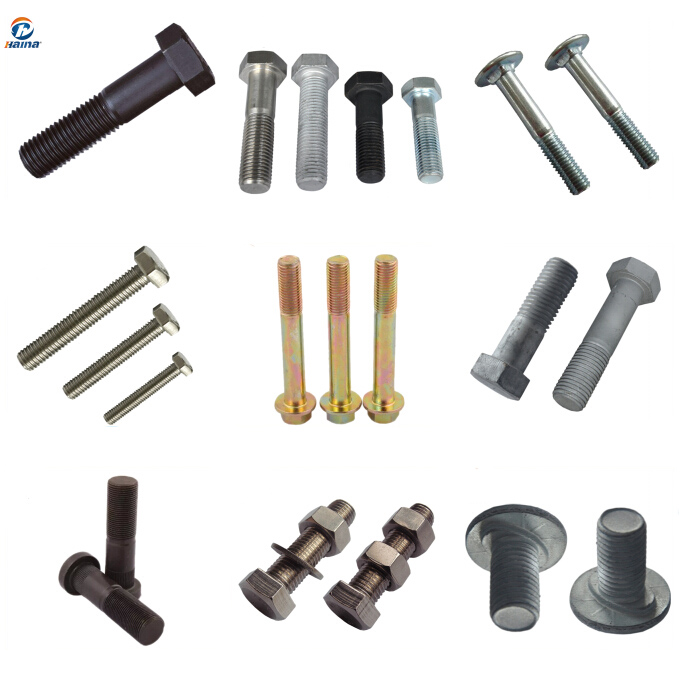 Our Services
Professional Manufacturer: All of our Fastener are designed and manufactured according tobuyers' specification and performance.

Quality is guaranteed: Durability testing and critical technical design to enhance fasteners lifetime.

Cost effective: Competitive prices with professional factory supply

Perfect fastening solution with 10 years experiences to solve your problem: Wide range of parts selection.

Customized Ideal Fasteners: customized services according to the samples and drawings offered



Certificate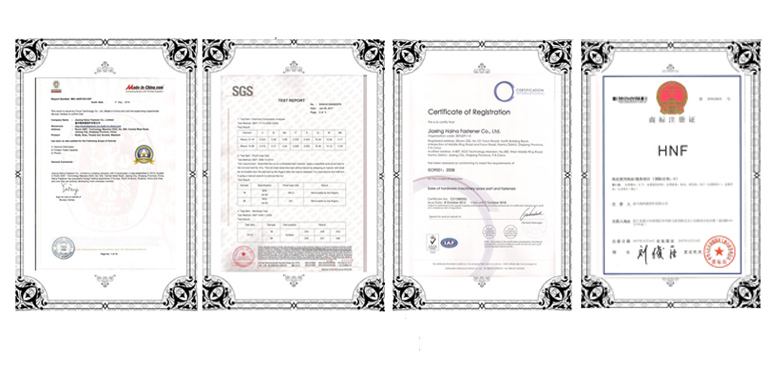 RFQ
1.How do you let me trust you.
We have own import & export right, and we are Gold mumber of alibaba and made in china,We get credit guarantee from Alibaba Group. you can make an order by alibaba to us directly.
2.How about your price.
High quality products with reasonable price. Please give me a inquire, I will quoted you a price foryou refer at once.
3. How do you control your quality.
We request QC inspect every productions links for each bacth goods.And we can provide you MTCand mill certificate when the goods is finished.
4.Could you provide free samples?
For new customer, We can provide free samples for standard fastener, But the clients will pay theexpress charges. For old customer,We will send you free samples and pay express charges by ourself.
5.Do you accept small order?
Sure, we can accept any orders, we keep lots of stock for ALL STAINLESS STEEL FASTENER,CARBON STEEL NUT AND PART BOLT,Like hex weld nut, cage nut, wing nut, square weld nut,
cap nut, hex nut,flange nut.Metric 8.8Grade,10.9Grade 12.9Grade Hex bolt and Hex Socket cap screw,
Part ASME Hex cap screw.
6.How about your delivery time
General speaking, if the goods is in stock, we can delivery them with 25days, If the quantity is 12container, we can give you with25days,if the quantity is more than 2 containerand you arvery urgent, we can let factory priorityproduce your goods.
7.What is your packing.
Our packing is25kg for one carton,36 or 48pcs cartons for one pallet.
8.What is your payment term
One pallets is about960kg,We also can make customer's logoonthe cartons. Or we customized cartons according tocustomers'requestmen.
close